About
Welcome to Kindergarten!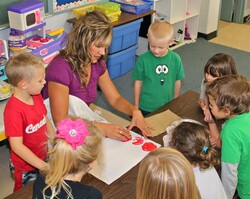 Sept 2021:
I am so excited to see you at school! 
This is my 14th year teaching Kindergarten at Brant Christian School and I look forward to having this new class of 9 energetic, enthusiastic girls!
Parents: Please look for your Kindergarten newsletter in the S.O.S. Homework bag at the start of each month or find it HERE, under Kindergarten News. 
Feel free to email me anytime with questions or concerns...erin.niemans@pallisersd.ab.ca
Kindergarten Applesauce
The end of September means it is time for Applesauce!
Happy Fall yáll
Here is our recipe:
8 apples chopped and diced into a pot
water- enough to cover the bottom of the pot
a squeeze of lemon juice
Bring to boil until apples are soft and mushy!
Strain thru a sieve into a bowl
Sugar and cinnamon to taste
Enjoy!